Herb Bread (From Allie)
Makes 1 loaf in approx. 3 ½ hours
Ingredients:
1 pkg. active dry yeast
2 tsp. sugar
¼ cup warm water (105°-115° F.)
1 ¼ cups warm milk (105°-115° F.)
½ cup chopped sage, rosemary & thyme
1 Tbs. vegetable oil
1 large egg, lightly beaten
2 tsp. salt
4 cups bread flour
Instructions:
In large bowl, dissolve the yeast and sugar in warm water. Let stand until foamy, 5 – 10 minutes. Stir in warm milk, herbs, oil, egg, and salt.
W/hands, mix flour, ½ cup at a time, into yeast mixture until a stiff dough forms, 5 – 10 minutes.
Turn dough out onto a lightly floured surface and knead until smooth and elastic, 5 – 10 minutes, adding more flour as needed to prevent sticking.
Place the dough in a large greased bowl, turning to coat. Cover loosely with a damp cloth and let rise in a warm place until doubled, 1 ¼ hours.
Punch down the dough. Turn out onto a lightly floured surface and knead for 1 – 2 minutes. Shape dough into an oval loaf.
Grease a baking sheet. Place loaf on prepared sheet. Cover loosely with a damp cloth and let rise in a warm place until almost doubled, 45 minutes.
Beat 1 large egg, & coat loaf
Preheat oven to 425° F. Brush loaf with glaze. Slash top of loaf in several places, and mist with water.
Bake until loaf is golden brown and sounds hollow when tapped, 20 minutes, then cool.
---
Potato Latkes (From Martha)
With thanks to Jennie Grossinger, this recipe is Gluten free. We eat little else during the Chanukah season
Ingredients:
2 eggs ½ t salt
6 medium-size potatoes ¼ t pepper
2 medium-size onions ¼ t cinnamon
¼ c olive oil ⅜ c GF flour or potato starch
more oil for frying

Instructions:
Peel the potatoes into a bowl full of cold, cold water, laced with lemon juice (~ 1 tsp/quart)
Peel the onions
Grate the potatoes and onions together using a large-bore grater (you want potato strings not potato dust). Squeeze out the excess liquid.
Beat the eggs until they are thick, add the potatoes and onions, salt, pepper and flour.
Heat ~1 inch of oil in a skillet to 375˚
Gently place two tablespoons of the batter into the oil, shape it roughly into a disc; fry until brown (about 5 minutes); repeat as many times as you can while maintaining a single layer of frying latkes well space in the skillet. (I manage 6 at a time in an electric frying pan ~11" x 14")
Turn it over and fry the other side until it's brown (another 3 minutes)
Drain on absorbent paper and keep them hot until all are ready
Serving Suggestions:
Serve with applesauce and sour cream.
If there are leftovers (a rare occurrence), wrap them in wax paper and store them in the fridge up to a week. Use them cold as the bread of corned beef sandwiches with Russian dressing and coleslaw or the toast of a velsch rebbit; reheat them in the oven or microwave and have the original feast over again. In the microwave, place them on absorbent paper to soak up some of the oil while reheating.
---
Pizzelles (From Dave)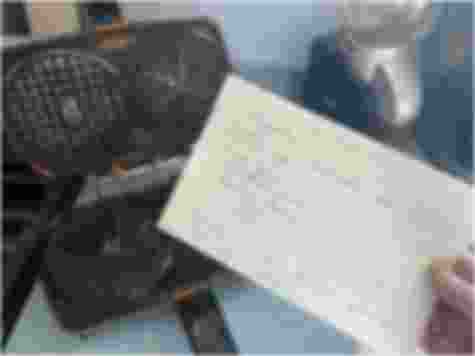 Ingredients:
12 eggs - Beat well, then beat in:
2½ cups sugar
2 cups oil
6 cups flour
1 tsp. baking soda
1 tablespoon flavoring (anise, almond, vanilla)
Instructions:
Drop by teaspoonful onto hot iron.
Press iron and bake for about 30 seconds
---
Caramel Cheesecake Pie (From Julie)

16 oz. cream cheese, softened
½ c. light brown sugar, packed
2 large eggs
1 tsp. vanilla extract
2 tbls. sour cream
1 9-in graham cracker crust

Instructions:
Beat cream cheese and brown sugar with an electric mixer; add remaining ingredients and beat until smooth.
Pour into pre-baked graham cracker crust.
Bake for 30 minutes at 350 degrees.
Cool and refrigerate.
For easy caramel topping, melt 15 caramels (such as Kraft caramels) with 2 tbls. milk in a small saucepan. Spread over cooled cheesecake; sprinkle with Heath bar bits if desired.

Variation: instead of caramel, use pineapple topping:

1 can (16 oz) crushed pineapple (reserve liquid and add enough water to make 1 cup)
½ c. sugar
2 tbls cornstarch
In saucepan, combine sugar and cornstarch. Stir in the pineapple juice/water mixture; cook until mixture boils; then boil and stir for 1 minute. Add crushed pineapple. Cool and spread over cheesecake.
---
Ambrosia (From Kathy)
Ingredients:
1 cup red or green seedless grapes, halved
1 cup fresh or canned mandarin orange sections
1 can pineapple chunks or 1 cup fresh pineapple
1 cup flaked coconut
1 cup sour cream
Instructions:
Mix all the ingredients.
It's best made the day before and refrigerated.
---