What's better than taking time for yourself during the busy holiday season to indulge in a great read and share your thoughts with like-minded people? Please join us for as many of these online gatherings as you like!
All meetings are virtual until further notice. Registration is required. Books will be available to pick up ahead of time at the Central library. Virtual meeting details will be sent out the day before the meeting. For more information and to register, see the descriptions below or contact the Central Library Reference Desk at 401-943-9080 x3 or central@cranstonlibrary.org.
And while you're at it, consider signing up for our special virtual event about Red Sox Nation, or sign up to learn how start your own small business. 
Stay safe, and happy reading! 
---
VIRTUAL BOOK GROUPS @ CENTRAL LIBRARY
Cookbook Club, Wednesday, December 16 | 3:00 PM
Choose a recipe to make from the selected cookbook, then share it (virtually) with the group.
Ottolenghi Simple: A Cookbook by Yotam Ottolenghi
Join us as we sample a cookbook that "highlights dishes that can be made in under half an hour, using ten ingredients or fewer, those that can be prepared ahead of time, and others that use mostly—or only—pantry staples" (from Library Journal).
Contact Corrie at calves@cranstonlibrary.org to register.
---
Graphic Novel Book Group, Wednesday, December 2 | 6:30 PM
A Fire Story by Brian Fies

Early on the morning of Monday, October 9, 2017, wildfires burned through Northern California, killing 44 and destroying 6,200 homes. One of those homes belonged to author and illustrator Brian Fies and his family. In the days that followed, Fies hastily pulled together a firsthand account of his experience in a twenty-page online comic, entitled A Fire Story. Less than a year after the fire, Brian Fies expanded his webcomic into a full-length graphic novel, including environmental insight and the stories of others affected by the disaster.
Register online for this meetup.
---
Nonfiction Virtual Book Group, Wednesday, December 9 | 2:00 PM

Last Hope Island: Britain, Occupied Europe, and the Brotherhood That Helped Turn the Tide of War
Join us this month to discuss this "groundbreaking account of how Britain became the base of operations for the exiled leaders of Europe in their desperate struggle to reclaim their continent from Hitler" (from the publisher).
---
Hidden in the Stacks Virtual Book Group, Tuesday, December 15 | 6:30 PM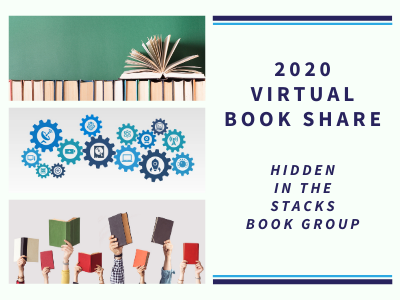 It's time for our annual Book Share!
Start thinking about titles now and read more information and register for the meeting here on our website.
---
YA For Adults Virtual Book Group, Wednesday, December 16 | 6:30 PM
 Marin hasn't spoken to anyone from her old life since she left everything behind. Now a freshman in college, she waits in a dorm emptied out by winter break for her former best friend to come visit. As the snow falls around her, Marin must face everything she left unsaid and confront the loneliness she carries within her.
---
Reading in the Hall Virtual Book Discussion for Adults @ WILLIAM HALL LIBRARY
Wednesday, December 16, 7:00 PM

This month we're reading then discussing "Sourdough"  by Robin Sloan. "A software engineer at General Dexterity, a San Francisco robotics company with world-changing ambitions, Lois Clary codes all day and collapses at night, her human contact limited to the two brothers who run the neighborhood hole-in-the-wall from which she orders dinner every evening. When the brothers have Visa issues, they have one last delivery for Lois: their culture, the sourdough starter used to bake their bread. She must keep it alive, they tell her-- and learn to bake with it. Soon Lois is providing loaves to the General Dexterity cafeteria, then the farmer's market, and a whole new world opens up-- including a secret market that aims to fuse food and technology." (from the library catalog)

Join us on Zoom to discuss the book. Be sure and register through this form so we can get a book for you and email you the meeting link when it's closer to the meeting date.